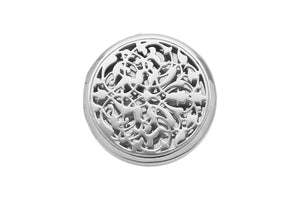 Diffuse your favourite essential oil or fragrance in style!
Enjoy the benefits of aromatherapy wherever you go with our latest elegantly designed Essence Lace locket Qliq! Simply add a few drops of your favourite oil or fragrance onto the provide organic cotton paper pad then place it inside the locket and wear it with your Emmesphere headphones or Hemisphere necklace on the go. Whether to help you de-stress, relax, or simply enjoy your fragrance, our latest Essence Lace Qliq! with the Emmesphere sound necklace is your perfect relaxation companion - with aromatherapy and music in one!
The Essence Lace locket Qliq! comes in two colour variations - Rose Gold and Silver. All our Qliq!s in this collection are made from 925 Sterling Silver, with either 9ct Rose Gold plating or Rhodium plating. Each Qliq! comes with two interchangeable and re-usable organic cotton paper pads imported from Japan.
"Qliq!" and Change Styles
Easy swap in and out feature allows you to transform the EMMESPHERE Sound Necklaces or the Hemisphere Necklace into a beautiful piece of jewelry to match your extensive wardrobe and create a stylish edge to any look. A style statement that's sure to turn heads.