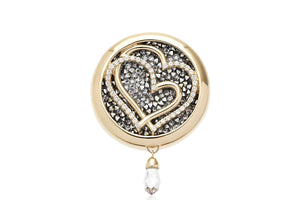 Sweet and gorgeous! The stunning heart-to-heart jewelled piece of the Lovesphere is set in 9-Carat Gold-Plated Sterling Silver and Swarovski Crystal pave. The Cubic Zirconia stones around double-heart accentuates the elegance of the product to a whole new level.
"Qliq!" and Change Styles
Easy swap in and out feature allows you to transform the EMMESPHERE Sound Necklaces or the Hemisphere Necklace into a beautiful piece of jewelry to match your extensive wardrobe and create a stylish edge to any look. A style statement that's sure to turn heads.